Smart home tech consumption is on the rise and it makes sense. Automating a home not only increases its resale value, but has the potential to minimize our everyday hassles and reduce monthly energy bills. Every year CNET, a leading source of technology-related news and reviews, publishes a list of Best Smart Home Devices in various categories: smart locks, thermostats, DIY security, LED bulbs, etc. Today we will be taking a look at the overall top 10 best devices across all these categories.
READ: BEST HOME TECHNOLOGY OF 2016 – TOP 15
SMART HOME SECURITY
Scout Home Security System
Scout is a self-installed, wireless home security system. There is no hardwiring and no drilling, which is why you don't have to hire a professional to install the system. With a dedicated app for iPhone, Apple Watch and Android, you can monitor and control your home security from anywhere at anytime by checking out the live activity feed, arming your system or responding to an alert as you prefer, all in the app.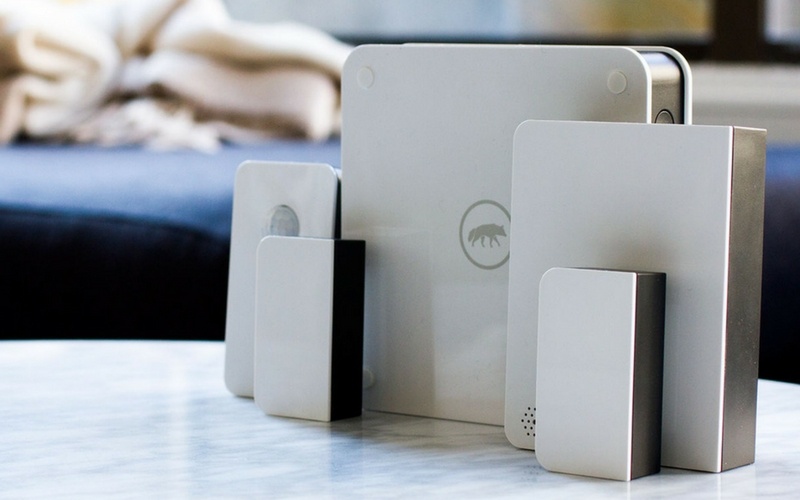 Amazon Reviews:
Positive Review: "I've really enjoyed using Scout Alarm so far. It's super plug-and-play, and I love the IFTTT integration. I've created a few nifty recipes such as the system automatically arming Sleep Mode at a certain time every evening, and sending me a push notification. I also have the motion sensors doubling to trigger lights and switches. For example, only run the humidifier in my office when I'm not in it."
Negative Review: "This system and its monitoring is a huge waste of money since I'm away from home for longs periods of time and batteries don't last but 2-3 weeks. Is frustrating that your whole system becomes useless while you are away. I was told they would have a big update that would improve battery life in JANUARY but nothing yet. They didn't even respond to my last email. I had this system for over a year, and do not recommend."
SkyBell HD Wi-Fi Video Doorbell
SkyBell is a smart video doorbell that allows you to see, hear, and speak to the visitor at your door whether you're at home, at work, or on the go. Featuring an integrated camera, PIR motion sensor, digital microphone and speaker, you can use the Wi-Fi Doorbell Camera to answer the door, speak to visitors via two-way audio, record doorbell triggered clips, and set motion triggered automation rules.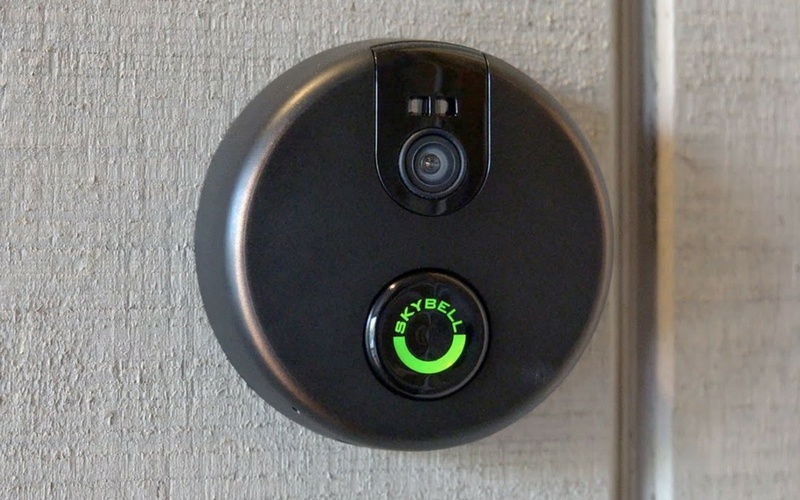 Amazon Reviews:
Positive Review: "Excellent product and very easy to install, both physically using the existing pre-drilled holes from your old door bell, and virtually via the Alarm.com app. Have not had any issues with it, and have been very impressed with its performance and integration into the overall Alarm.com platform (e.g., event-triggered rules, notifications, automatic video recording, etc.). The phone alerts and live video that appear on your phone when someone rings the doorbell are helpful, especially in large homes. On top of that, it looks nice too, and the LED colors (default is green as shown in the Amazon picture) can be changed to any possible color and brightness level right from the Alarm.com website of phone application."
Negative Review: "It's simply to slow to detect someone at the door and to show the video. The HD video is nice, but the fact that it takes 10-13 seconds to show who is at the door is simply to slow."
Nest Cam Indoor
The Nest Cam Indoor security camera is designed to help you look after your home and family – even when you're away. With 24/7 live streaming, a versatile magnetic stand, person alerts with Nest Aware and one app for all your Nest products, Nest Cam Indoor helps you keep an eye on what matters. From anywhere. If Nest Cam thinks something's up, it'll send a phone alert or an email with a key image from the event.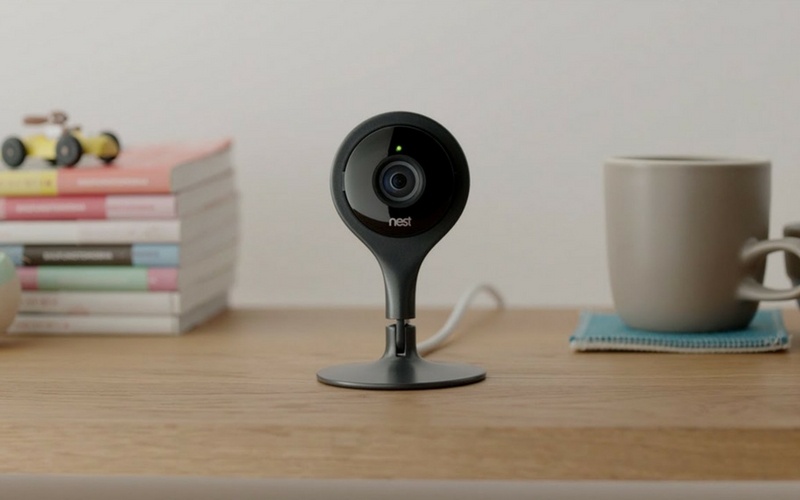 Amazon Reviews:
Positive Review: "I can't say enough good things about the new app. The feature to scrub through a timeline to quickly see activities is perfect. There's no load time / buffering when going back, I don't know how the engineers at Nest were able to do this, but their video compression algorithm is really top notch. Maybe they're using the middle out compression. Regardless…a tip of the hat to them."
Negative Review: "I wish I could get a refund. I have three Nest Cams, and these cameras constantly register false alarms to the point of me simply turning them off. They run burning hot, as well. I have numerous Nest protects and Nest thermostats, and they are great, but the Nest Cam is a horrible product crippled by Google Greed."
READ: 6 SMART HOME TECHNOLOGIES THAT CAN SAVE YOU MONEY
Kuna Toucan
Toucan Outdoor Home Security Camera is a preventive surveillance system built to retrofit most existing outdoor light fixtures. With a wide angle, adjustable HD camera, passive infrared motion sensor, a 100dBA remote panic alarm and 2-way communication speaker and microphone, Toucan detects activity at your doors providing automatic notification directly to smartphones via the Kuna mobile App. It's an easy 3-step installation, no hardwiring or batteries needed.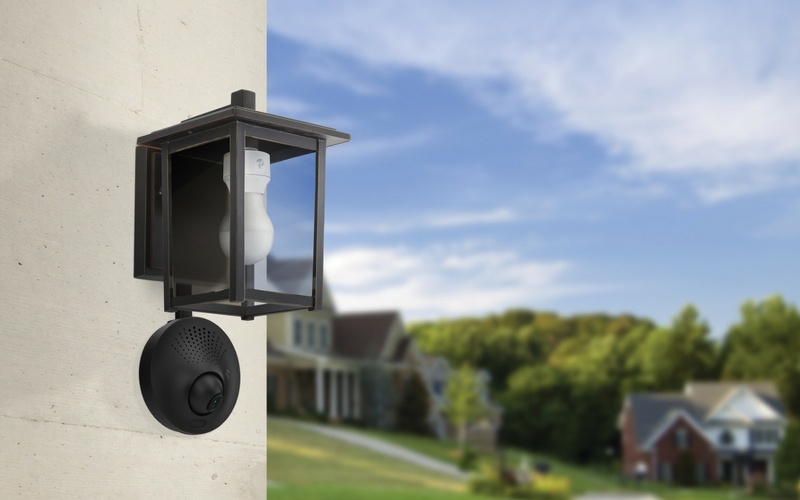 Amazon Reviews:
Positive Review: "Exact match for another that I bought locally. Awesome microphone that picks up everything within a reasonable radius. Syncs with your smart phone and can be downloaded on multiple phones. You have pre-recorded messages you can use, or speak to the person outside your door yourself. Good picture quality as well. I bought this for my son's house after he had some difficulty with an ex-roommate. I plan to buy one for my own front door at some point as well."
Negative Review: "Let me start by saying that I really wanted to like this camera……Toucan stood up, with it's two-way audio, free recording of up to 2 hours and the ability to control the light socket through the app……..
First of all this camera is designed to be installed directly under a light source, which might sound like a good idea at first, but the motion sensor is so sensitive that even on the lowest possible setting it gets triggered by all the moths and other bugs that get attracted by the light bulb above it. Speaking of the light bulb, after day and a half the ability to turn the light on or off from the app stopped working and I could not make it work again – restarting the camera, installing new light bulb etc…nada! The motion detection gets triggered 30 times a day even on the lowest setting with no apparent moving objects and sometimes it misses moving objects like cars entirely. I can not recommend this camera to anyone at this point and will be returning it."
HOME AUTOMATION CENTRAL SYSTEM
Amazon Echo
Amazon Echo is a hands-free speaker you control with your voice. Echo connects to the Alexa Voice Service to play music, provide information, news, sports scores, weather, and more—instantly. All you have to do is ask. Echo has seven microphones and beam forming technology so it can hear you from across the room. IT is also a speaker that can fill any room with 360° immersive sound. When you want to use Echo, just say the wake word "Alexa" and Echo responds instantly.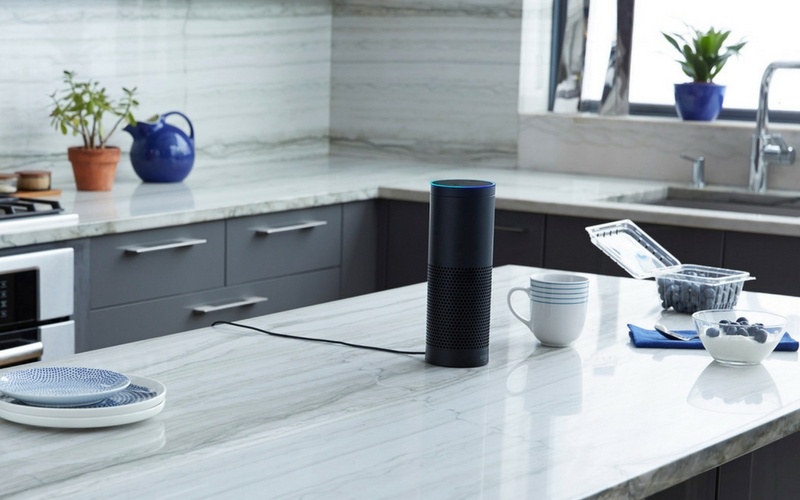 Amazon Reviews:
Positive Review: "LOVE OUR NEW ECHO! I have been watching the reviews online and checking with friends that have purchased the Echo to see how much they liked or disliked its features. Last person I talked to went on and on about all the things there were using it for and that persuaded me it was time and Amazon Prime Day was the perfect opportunity to go for it. Amazon did a fantastic job of creating this tubular info-taining command center! There are so many cool and awesome things its able to do that I'll hit the highlights that work for our household."
Negative Review: "Today, I stopped trusting Amazon. My echo stopped responding out of nowhere and their only choice for me was to buy a new one. I spent $180. It's been 1 year and 25 days since I bought it. Would you find that acceptable? What would you expect from Amazon? How long would you expect your $180 item (that nobody touches) to last you?"
READ: 7 SMART KITCHEN ITEMS YOU SHOULD SAVE UP FOR
SMART LIGHTING
Lifx Color 1000
LIFX is a smart lightbulb that uses Wi-Fi to bring immersive color to your home. A simple-to-use app allows you to fine tune your lighting experience; control a single light or your entire home and enjoy strong vibrant colors along with delicate whites. LIFX lights work with Amazon Alexa. Use simple conversation starters to turn your lights on and off, change the brightness, make them warmer and swap them to your favorite color—all with the power of your voice.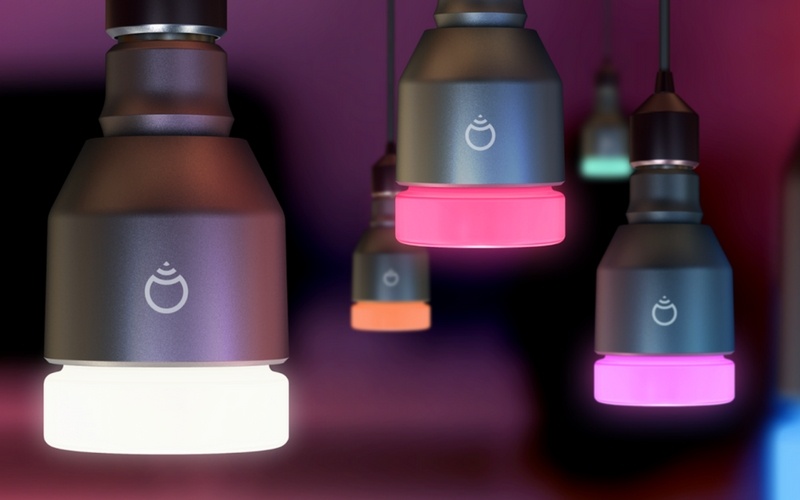 Amazon Reviews:
Positive Review: "This is the most awesome light ever made! I have it programed to come on in the morning in a sunrise orange color. It helps me a lot with getting out of bed in the early morning hours. I really like the extended range of colors that this light has. I only wish I would have bought it much sooner."
Negative Review: "Very unreliable in connectivity. I have to reset at least one of the bulbs once a week. No other smart home products I have go through similar issues. Tried their support but it took almost three weeks and they determined it was "likely my router". Since I have a set of hue bulbs that work just fine and don't have any issues I guess I'll just continue buying those instead."
Philips Hue Wireless Dimming Kit
With its installation free kit, all you have to do is screw in the Hue White LED bulb in your standard fixture and switch on the light. You can immediately control your light using the battery-powered Hue Dimmer switch. No need to call an installer. The switch is magnetic and can be removed from the back plate. This allows you to also use the Philips Hue Dimmer switch as a remote control for your light with an indoor range of up to 12 meters.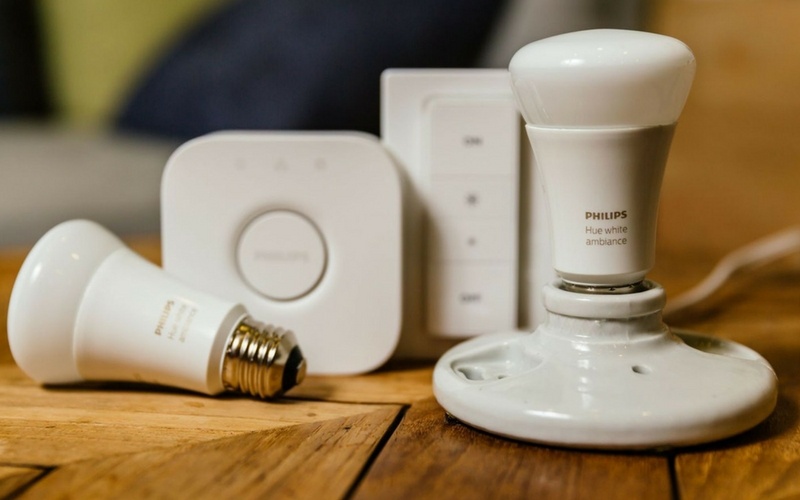 Amazon Reviews:
Positive Review: "I set it up with one set of lamps, then changed my mind and moved to the master bedroom for sconce control. Had to de-commission and set up again, no problem. Very nice! Solid as a rock"
Negative Review: "Very slow response time from button push to light change if you use it for more than 1 room (max is 2 rooms). I have my hue whites and hue color lights as separate rooms (6 total lights). About 3 times slower than when using the app to control. I'm sure this is because I'm using the switch for 2 rooms, but the first time I've been unimpressed with a hue product."
BeOn Starter Pack
The BeON Home Starter Pack consists of three LED light bulbs, three Bluetooth-enabled plug-in modules, and an app for Android and iOS mobile devices. Deters burglars by making it look like you are home. Learns and replays your lighting while you are away and even responds to the burglar's doorbell check by turning on lights just as if you are home.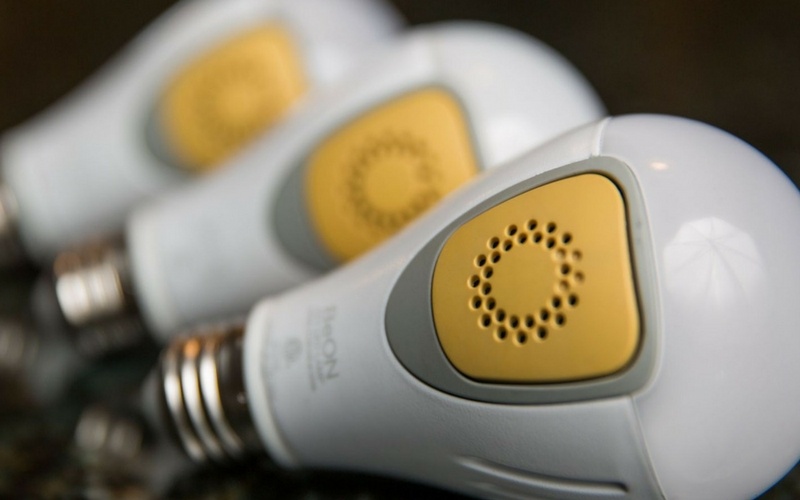 Amazon Reviews:
Positive Review: "This is a fantastic product! They are pricey, but they last so long that I feel the price is worth it. I wish there was a way to have these lights come on automatically when the electricity goes out but I may be asking too much. The packaging was sufficient, the explanations and directions were clear, and the bulbs and batteries worked right out of the box so they didn't need charged before testing them out."
Negative Review: "I bought these thinking they were going to be pretty neat. The idea itself is neat, but they are hard to connect, the 3 bulbs have to be closer than I thought to one another. The main reason why I did not like these was one of the three got super hot. It was only on for a few minutes and it was very hot to the touch. I am going to send them back because I am afraid they will cause a fire. Good idea but maybe the next generation will work better."
SMART SMOKE DETECTOR
Nest Protect (Second Generation)
Nest Protect has been redesigned from the inside out. It has an industrial-grade smoke sensor, can be hushed from your phone, tests itself automatically, and lasts up to 10 years. And just like the original Nest Protect, it also tells you what's wrong and can even alert your phone. Both the wired and battery versions of Nest Protect take only minutes to set up with your iPhone, iPad, or Android device. Once they're connected to Wi-Fi, every Nest Protect in your home will automatically connect to the others. The Nest Protect is also easier to attach to the wall or ceiling thanks to a redesigned backplate.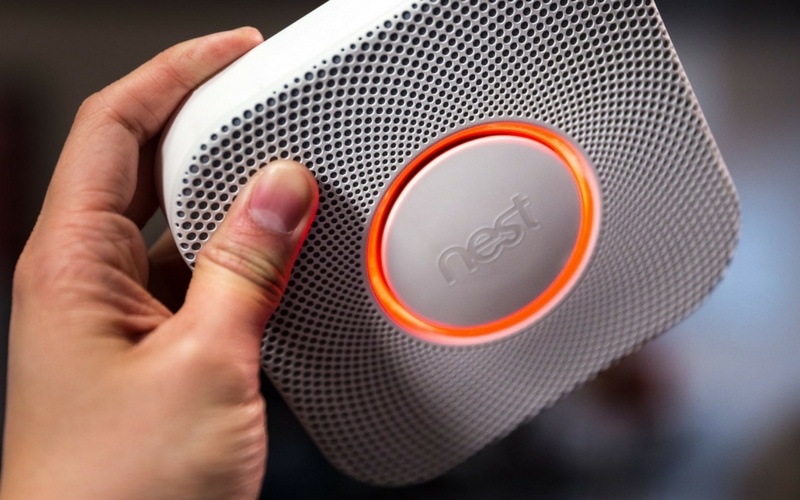 Amazon Reviews:
Positive Review: "I originally purchased a Nest Protect because I thought it would be a great addition to our Nest Thermostat. I ended up replacing every smoke detector in the house because my wife thought it was an excellent nightlight. The Protects are very convenient because they can be set to turn on only when they sense motion, avoiding constant illumination throughout the night. They also integrate nicely into the Nest app and website by allowing easy to understand status and history checks. The second generation Nest Protects are much easier to install than the first generation and only take a few harmless minutes to setup."
Negative Review: "You are better off with a standard smoke detector. I purchased two units. One consistently stays online. One cannot hold a connection. I swapped the locations out, and the unit that held connection still maintained signal."
SMART SHADES
Lutron Serena Remote Controlled Shades
Ultra-quiet and easy to install, Serena shades are powered by standard alkaline batteries that last three to five years and can be controlled by either a handheld remote control or by a smartphone or tablet. You can select from over 150 fabrics to find a perfect fit for your home style.
CNET Review:
The Good: Lutron's Serena Smart Shades are easy to install and use, HomeKit offers promising smarts and overall the experience is pretty painless.
The Bad: They're expensive and require a $150 Smart Bridge to integrate with HomeKit, plus some of the features like Geofencing and Siri integration come with the expected spotty performance.
The Bottom Line: Serena has a lot of things going for it but the price will push these shades out of the range of many would-be customers, and the performance hiccups show room for improvement.