One of the first decisions you have to make when remodeling is what type of flooring solution to go with. Hardwood floors? Carpeting? Tile? Laminate? You are faced with a range of options and have to evaluate each based on such criteria as durability, costs, style and functionality. So, to make the decision process a little bit easier, today we are breaking down the main cons and pros of 5 most popular flooring solutions.
Hardwood Flooring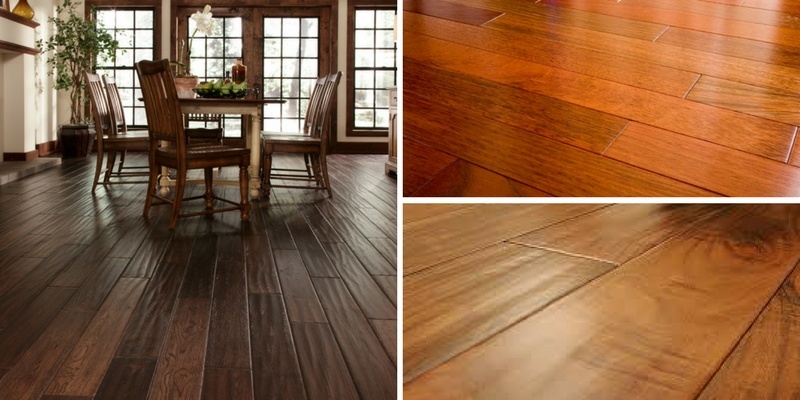 Hardwood flooring is one of the most popular choices for numerous reasons: it gives a more homely feel, is easy to clean, it's highly durable and swapping out area rugs and carpets allow to easily modify the design of the room.
First you have to decide whether you want unfinished or prefinished hardwood flooring. The former allows you to further customize the color, while the latter make the installation process much faster. Next, do you want it solid or engineered? Solid wood is 5/8 to 3/4 inches thick. The disadvantage of solid wood is its succeptibility to humidity. Engineered, or composite, hardwood is several layers of wood glued together. As a result, you have more options in terms of thicknesses, sizes, grades and exposure durability. You can't skim on engineered hardwood floors as inferior engineered manufacturers and products will end up costing you on the long-term.
Some of the most common trees used to produce hardwood floors are oak, maple and cherry. Walnut and mahogany are popular as well. The important thing to remember when purchasing hardwood is to check that the wood comes from sustainably harvested forest.
PROS: Hardwood floors add a cozy feel to your room as well as resale value to your house. Sanding and refinishing allow you to repair the floor for a minimal cost.
CONS: It is one of the pricier options. With time hardwood floors can start to squeak. In winter months it's best to cover it with a carpet as they will get cold. It's vulnerable to moisture and humid weather. Hardwood floors are not exactly pet-friendly.
Carpet Floors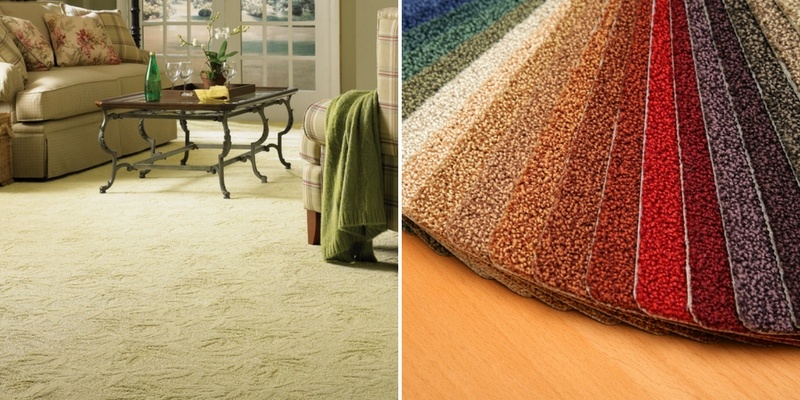 Carpeted floors make a room look instantly soft and cozy.
There are two main types of carpets: loop pile and cut pile. In a loop pile the fibers are bent into little loops. While it is stain-resistant and durable, it is not particularly soft. A cut pile carpet cuts the yarn tips, as opposed to looping them. The carpet is more soft, but furniture leaves dents and marks.
You have a number of options in terms of synthetic and natural fibers used to produce a carpet: nylon, acrylic, wood and olefin, to name a few. Wool is one of the most ecofriendly choices, however, it is also one of the priciest.
When evaluating your options, make sure to check the weight and the density of the carpet. The heavier the carpet, the more fibers it has, making it higher quality. The denser the fibers are packed together, the longer it will last you.
PROS: Carpet floors are warm – both to the touch and visually. You also get a wide range of options both in terms of the style and the feel. Carpets reduce noise from one floor to another and act as another layer of insulation.
CONS: Unless you go with a stain-resistant carpet, cleaning can be difficult. While it is easy to install, it is not the most durable solution. They are more allergenic as it's more difficult to remove dirt and dust.
Laminate Flooring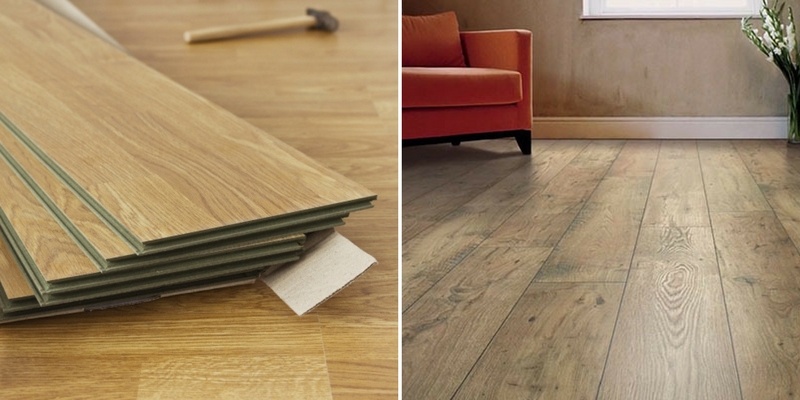 Also known as floating wood tile, laminate flooring simulates wood with a photographic applique layer under a clear protective layer. Due to the photographic process, laminate can imitate different types of wood, while being substantially cheaper and is easier to install.
PROS: It's perfect for DIY due to its easy installation. Laminate is easy to maintain and, as already mentioned, it's a cheaper alternative to hardwood floors. Lightweight, snap-together laminate can be installed over a number of existing flooring. It is resistant to dents and scratches.
CONS: It is vulnerable to moisture and humidity. It is not the most environmentally friendly solution as the wear layer contains plastic that doesn't degrade in landfills. As closely as it can imitate hardwood floors, it is still not the real deal. You can't sand and refinish laminated flooring.
Concrete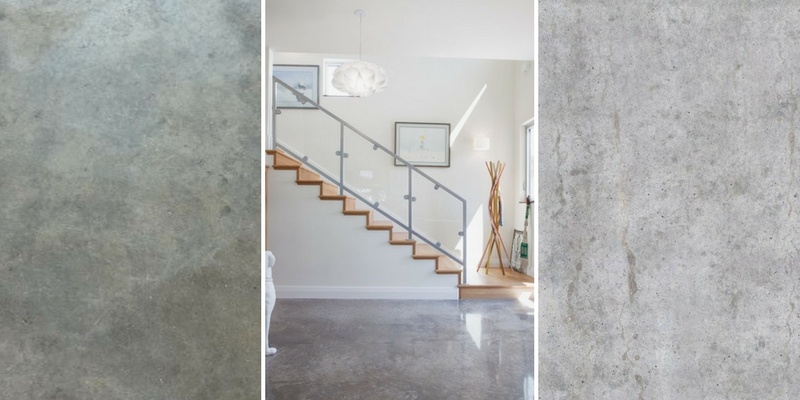 By far one of the most durable solutions, concrete floors will not dent or scratch. They go well with a minimalistic or industrial interior design and price-wise range from really cheap to rather pricey. Concrete is also versatile in its look, so don't immediately assume it will be cold and grey.
The installment process is more complicated and lengthy than a carpet, but concrete floors will also last you much longer. Note that due to its weight, you should consult a specialist before installing concrete floors on higher floors as you may have to go with lightweight concrete.
PROS: It is highly durable and easy to maintain. It gives your house a polished look. Concrete flooring can accomodate a range of budgets. It is environmentally friendly if you use existing concrete slab and you have numerous design options. If you embed hot water tubes or electrical cables, your floors will be nice and warm.
CONS: Concrete floors are very hard. Unless you add radiant heat, the floor will be cold. Due to its nature, concrete floors can develop cracks over time. In below-grade basements, moisture migrating up from underneath the slab may make concrete unacceptably damp and damage any surface treatments, such as paint.
Tile Flooring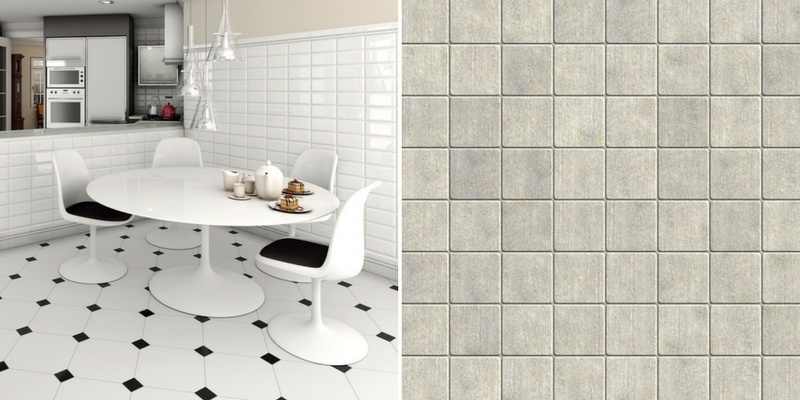 You have so many design options with tile flooring. From size to color to pattern, it makes sense why tile flooring is such a popular option. It looks clean and is durable.
Ceramic tile is a mixture of clays and other natural materials. Porcelain tiles are composed of fine porcelain clays and fired at much higher temperatures than ceramic tiles, making them more dense, less porous, much harder and less prone to moisture and stain absorption.
PROS: Tile floors are stain-resistant and durable. It is easy to replace an individual tile if it chips. Tile flooring increases the resale value of your house. As long as the tiles and the grout are sealed, they are water-resistant. They are also non-toxic.
CONS: Glazed tiles are slippery. They don't provide insulation value. The installation process is difficult, so it is not the most DIY-friendly solution.
We hope you found this article introducing you to the main advantages and disadvantages of different flooring solutions useful. If you need help remodeling your space, try Arcbazar. For a fraction of the cost you will crowdsource designs from our network of thousands of architects and interior designers and will have lots of fun in the process.