Each room in a home provides different levels of value when it comes to resale. New double pane windows upgrade living room and bedrooms, tile instead of laminate can give floors and bathrooms a new facelift, but no room increases overall home value like the kitchen. There are many ways to go about refurbishing a kitchen, but homeowners should beware of many new fashions and trends. While the retro look of pastel tiled countertops may be all the rage today, more classic and polished looks have staying power that can last for decades. We've pulled together three of the top improvements that can be made to a kitchen to boost home value.
Upgraded appliances give an instant facelift
Nothing makes a statement in a kitchen quite like sparkling new high end appliances. Getting rid of the old off color refrigerators and dishwashers, and upgrading to stainless steel can boost the value and functionality of your kitchen a hundred times over! Appliance upgrades allow you to take advantage of new technology, and they can create a finished look to the space. If you can afford it, replacing all of the appliances at once helps to create a smooth and cohesive transition. Professional home valuation companies, such as the experienced people at Property Cash Buyers, can help you determine your home's value and the most effective ways to upgrade.
READ: 7 SMART TECH KITCHEN ITEMS YOU SHOULD SAVE UP FOR
Create a wide open space to boost home value
Space in most houses comes at a premium, and when deciding where to spend the square footage, consider tacking it onto the kitchen. As a main focal point in the home, high value kitchens are open, airy, and finished. Adding extra counter space, cabinet space, and walking room to your cooking area will skyrocket the home's value. People idolize the cooking spaces seen on tv, and if you can create that feeling in your home, buyers will be clamoring to get in on the action!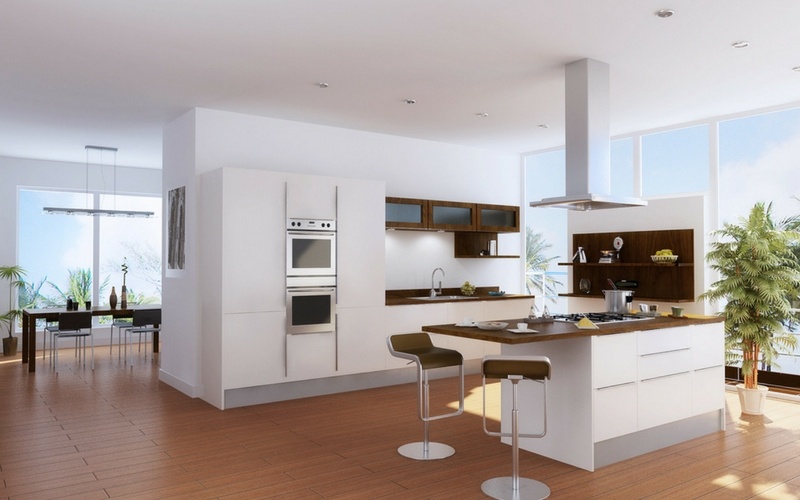 If it isn't as easy as knocking down a wall to add more space to your kitchen, consider some of these tips to increase the feeling of space in the room. Use light colors to paint the room, and create the feeling of extra space by adding a high impact color to one or two walls. Another way to make a space feel bigger is to add a window or skylight so that more natural light can stream into the space.
Be neutral, but don't blend into the crowd!
Using a neutral color palate when upgrading your kitchen gives a wide variety of customization options. Creating a pleasant, clean, and crisp backdrop with countertop, floor, and cabinet materials allow any homeowner to create drama with art, dishes and glassware, wall art, towels and accessories, and paint choices. Just because you go neutral does not mean you can cut corners. High quality countertops can boost the home's value immensely, and there are many options available to create an individual style.
READ: 17 STUNNING #KITCHENDESIGN INSPIRATIONS ON INSTAGRAM