Back in December we announced an exciting development at Arcbazar, which, we believe, will make the experience of crowdsourcing architectural designs through our platform all the more rewarding – integration of VR technologies and a sustainability score in the competition process. These developments are made possible thanks to our partnership (and long-term friendship) with the brilliant minds at Forum8, a Japanese company that produces state-of-the art Interactive 3D Virtual Reality simulation software.
Forum8 is the definition of 'innovation', and, it is in large due to the company's determination to seek out the most creative talent from across the world in developing its projects. Each year the company runs a student competition on a predefined theme in the area of design, innovation and creativity. So, we were excited when the company announced its 2017 edition of the Virtual Design World Cup – an international design competition among students in creating an innovative architecture, bridge and city design using BIM/CIM &VR technologies.
"We would like you to use FORUM8's BIM software and VR technologies by all means and consider this competition as an opportunity to create your masterpiece," explains the company.
Last year the theme of the competition was 'Extension of the central city Melbourne' with a total of 53 teams taking part. The theme for this year's competition is 'Yangon – Aiming for an ideal and sustainable Asian city'. "It can be said that the level of VDWC itself is increasing annually in tandem with the rapid development of BIM industry as expected by the competition organizers," explains Professor Yasushi Ikeda, Chief of VDWC Executive Committee. The competition is sourcing cutting-edge solutions to real challenges. Yangon, while no longer the capital of Myanmar, is a buzzing city of over 7 million people. However, due to the city's exponential economic development over the last few years, it is facing a number of infrastructural challenges. From high road congestions to poor road conditions to poor disaster management to the city's lack of electricity – Yangon has a number of hurdles to overcome as it develops into one of the region's economic hubs.
This is the target site of this year's competition.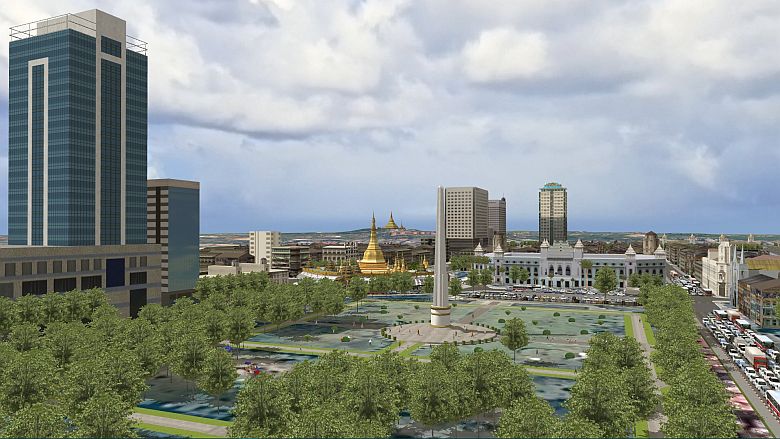 The goal is to source comprehensive and practical design solutions to all the infrastructural issues mentioned earlier with submissions making effective use of VR and simulation technology.
In order to take part, students need to organize in terms of at least 3 people, register and submit a work plan by June 21st. They will have an opportunity to improve their skills and knowledge through a series of seminars conducted by Forum8 and its partners, covering such topics as 'VR City Planning', 'EXODUS VR', 'UC-win/Road・VR' and others, ensuring that the submissions are of the highest quality.
"It is great to see teams competing at a level higher than ever in this international competition," comments Professor Ikeda. "But at the same time this goes to show that there is now greater demands for the benefits of using BIM than there was when the popularization of BIM initiated. The diversification of solution strategies presented by competing teams and the appearance of more projects that not only put an emphasis on BIM as a predominant method for evaluating the overall value of design proposals but also zero in on particular issues addressed in the contest theme are other obvious signs of growing demand for BIM."
All works will be judged on an anonymous basis by the judging committee: Prof. Yasushi Ikeda
(Chief of executive committee of VDWC, Graduate School of Keio University, Representative of IKDS), Mr. Yoshihisa Hanamura (Director of NPO Civil Machizukuri Station, Director and Chairman of Civil NPO Collaboration Platform), Associate Prof. Kostas Terzidis (Harvard University, USA), and Mr. David Tseng (National Chiao Tung University, Taiwan). The first prize is 300,000 yen (~$2,750). The team that comes in second will get 100,000 yen (~$916), and bronze will take home 50,000 yen (~$458).
The results will be announced at the awards ceremony on November 16th at Shinagawa Intercity Hall, Tokyo. Sign up now!