Repainting your house is one of the most cost efficient ways to upgrade its look and feel. Painting one wall in a bold color will add character to your space. Painting in more neutral colors will give it a clean look. Adding purple paint will give a more royal feel to your room. All that is to say that you can achieve truly impactful results by repainting your house. However, before you even get to selecting the color scheme for your house, there are a few things you should know about the process of selecting the right paint.
So, we've combined some of the must-know facts to make the purchase of this product easier for you.
1. Types of paint
There are four broad categories of paint: eggshell, semi-gloss, gloss, and flat. These are known as 'finish coats'. As the name suggests, this is the paint you apply at the very end, which means that you would first need to prep your walls with a base coat or a primer. Let's talk a bit more about the types of finish coats.
Flat paint

: also referred to as matte finish, this latex-based paint has the least amount of shine. As a result, it is most often used to hide imperfections of a wall, be it small cracks or bumps. However, it is generally not a good idea to use flat paint for kitchens, bathrooms, or children's rooms as it is more difficult to clean than some other types of paint.

Eggshell: also known as satin finish, eggshell paint has a slight sheen – not as much as a gloss finish, but more than flat paint. Because it can be easily cleaned, it is often the finish of choice for kitchens, bathrooms, and children's rooms. It is also more durable than flat paint and is used on interior wood surfaces.
Semi-gloss: in terms of durability, semi-gloss is a step above eggshell. However, it does reflect more light, which means it reveals imperfections of a wall to a higher degree. It's easy to clean, and, in addition to being often used to paint children's rooms, it can be used on metal and wooden finishes.
Gloss: glossy paints are shiny, almost reflective. As a result, it is most often reserved for furniture, windows, and decorative finishes as opposed to painting full walls. However, that doesn't mean you can't!
READ: THE PRO'S AND CON'S OF 5 POPULAR FLOORING SOLUTIONS
2. Water-based vs solvent-based paints
80% of paints sold on the residential market is water-based primarily due to potential health and environmental hazards of solvent-based, also known as oil-based, paints. However, there are advantages to using oil-based paint: while it takes longer to dry, it is more durable than water-based paint, has a beautiful gloss to it, and is smoother during application.
Water-based paints, on the other hand, have low levels of toxic emission, dry quicker, and can be easily cleaned. Keep in mind that if you are using water-based paint on top of a solvent-based layer of paint, the results may be disappointing as the water-based paint may not necessarily stick to the oil-based layer underneath.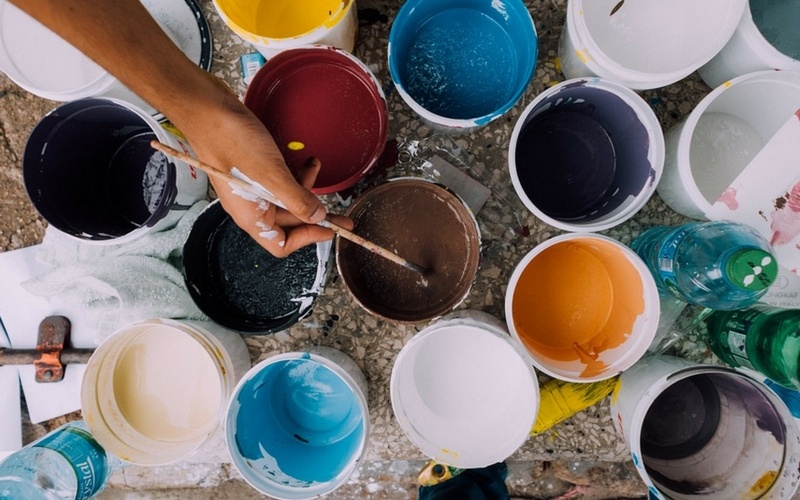 3. Selecting the right amount of sheen
As we've discussed earlier, each type of paint finish contains its own degree of sheen, however, even within the four categories there are variations. Because each manufacturer can have a different standard for sheen levels, describing it is matte, glossy or semi-glossy is not always enough. As a result, the Master Painter Institute issued 7 categories of sheen levels:
| | | |
| --- | --- | --- |
| Gloss Level 1: | | a traditional matte finish |
| Gloss Level 2: | | a high side sheen flat |
| Gloss Level 3: | | a traditional 'eggshell-like' finish |
| Gloss Level 4: | | a 'satin-like' finish |
| Gloss Level 5: | | a traditional semi-gloss |
| Gloss Level 6: | | a traditional gloss |
| Gloss Level 7: | | a high gloss |
4. Interior vs exterior paint
It's not enough to know the color you want for your paint and its level of sheen. Make sure to pay attention to whether it is manufactured for interior or exterior use. Exterior paint needs to be much tougher than interior paint as it is more exposed to the elements. As a result, resins used in binding exterior paints are softer. In interior paint, the binding resins are more rigid, which reduces scuffing and smearing.
In addition, it is common for interior paints to contain organic pigments, many of which will fade easily if applied on exterior surfaces.
Finally, interior paints have stricter requirements when it comes to volatile organic compound standards, so make sure to avoid applying left-over exterior paint on the inside surfaces of your house.
READ: BRILLIANT IKEA HACKS: 7 DIY PROJECTS FOR AMATEURS
5. Price vs quality
Products for every budget are available on the market, however, if you are on a tighter budget, we suggest you distribute it strategically. First of all, before committing to a can of paint, purchase a sample of it and apply it to your wall to make sure that it meets your expectations. Second, assess the level of light in your room. If it is a darker space, you should be able to get away with cheaper paint. Finally, invest in higher quality paint (which often translates into more expensive paint) for the areas that are used more frequently or are most on display. The higher the quality of paint, the longer it will last and the less prone it is to yellowing.
6. Prime your walls
Before you paint your walls in a color of your choice, you will need to prepare them with a paint primer. This undercoat will ensure the adhesion of paint to the wall, especially if you are painting on top of an old coat of paint. It also means you have to use one less coat of paint, which, depending on the price, will save you money. Experts advise to tint your primer by adding a bit of the paint you will be using on top of it. However, make sure that if you are using water-based paint that your primer is water-based as well. Same goes for oil-based paint and oil-based primer.
You are now ready to repaint! Have fun!