Do you have a major remodeling project coming up? Perhaps you are planning on redoing your kitchen. Maybe you're thinking of converting attic space that's currently stuffed with old junk into a beautiful guest bedroom or a home office. Or maybe it's a newly built house and you are looking to customize the interior to your taste. One of the first thoughts that often comes to mind is whether or not to hire an architect. "No, it's not really necessary. I have a vision of how I want the space to look, so I'll just explain that to my contractor and we'll sort it out. Hiring an architect is a needless extra expense." If this thought process sounds familiar, keep reading. There are five very good reasons to pay an architect that will save you time, money, and sanity, because, let's be honest, remodeling is a stressful endeavor.
No detail is small enough for a picture-perfect room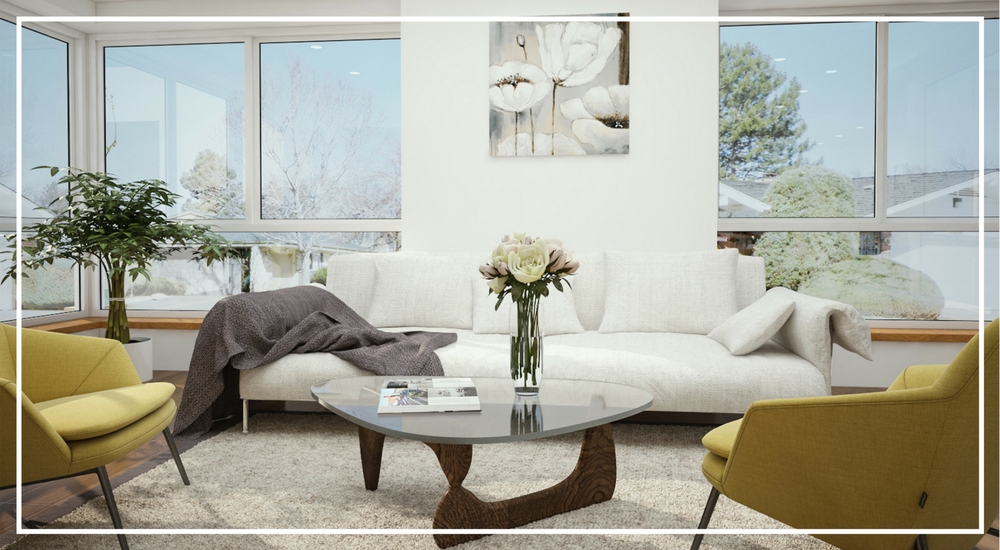 OK, so you have the overall vision of the end result. You know the color scheme, have a decent idea of the style of furniture that you like (and fits your budget), and the type of flooring solution to complete the look. While this is a fantastic starting point, it is exactly that – a starting point. There are dozens of details that you have to think through in the design of your space to make sure the end result is a cohesive Pinterest-worthy room. Are you maximizing your space for hidden storage? What is the best way to incorporate natural light into the design of the room? How high should wall art be hung? Of course, you can make these decisions on your own. However, it is extremely hard to pull the entire look together and seamlessly incorporate every practical and aesthetical detail in the design without having a professionally trained eye for it. That's why you should hire an architect. This is a professional whose brain is trained to think of the tiniest of elements, what purpose they will serve, and how they will fit in the overall vision of a space.
Increase the value of your home
Even if you have no plans to sell your home in the near future, you should always think of remodeling as an investment. You are spending tens of thousands of dollars changing the floor, upgrading your kitchen tiles, maybe even modifying floor plans. Don't let this money go to waste by failing to think of how it impacts the resale value of your house. For example, paying a higher price on marble countertops in your kitchen makes sense not only from the durability perspective, but it drastically increases the value of your kitchen, and, hence, of your entire home. At the same time, there are things that you shouldn't pay a high price tag for. Hardware finishes – knobs and handles, for example – don't need to come from a designer store, when you can purchase them for as little as $5 and then customize to your taste.
Hire an architect to see the bigger picture
Whether you are remodeling your entire home or just one room, an architect will help you create a seamless flow in between spaces. While the idea of an industrial style in your living room may be fun, how will it look when the rest of the house is in Scandinavian style? Will this floor type work with your climate? How do you create a space that looks stylish and elegant, yet is low maintenance? All of these questions are relevant when renovating your space. Once again, a DIY approach, no matter how prepared and well-researched you feel, does not stand a chance against the knowledge and experience of professional architects and designers.
An architect enhances your vision
It is scary to try and experiment with bolder designs without any training or past experience. Yet, did you notice that most of the beautiful designs in magazines or Pinterest boards have at least one bold element – an accent wall or an oversized chandelier, for example? How, while making a beautiful statement aesthetically, it seems to fit perfectly in the room? This combination of boldness and cohesiveness is difficult to achieve on your own. For example, check out the design of a living room/kitchen in the image below.  Everything looks so harmonious in this space, doesn't it? Yet, it's anything but boring. Masterful combination of exposed brick with muted colors of the furniture and wall paints, diluted by drops of bright color accents of the chair cushions and warm wloors and shelves create a stunning cohesive design. Bold elements – be it the brick wall or a giant painting – are in a perfect harmony with the rest of the interior.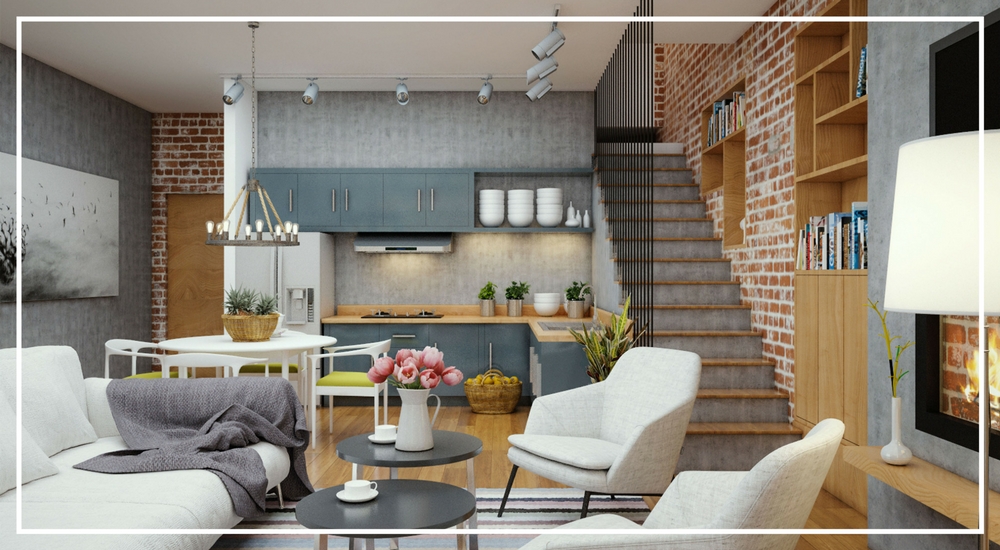 Paying an architect saves you money
Yes, that's right! Spending money on an architect now ensures that you spend less money later! When remodeling, unexpected costs come up. That's just a fact. However, one mistake that you can avoid is having to start over and going way over the budget because you realize half-way into the process that it's not what you had in mind. You can't rely solely on your vision and your contractor. You should hire an architect to make sure that the project goes as smoothly as possible from the moment your vision is put on paper till the last picture frame is hung on the wall. An architect helps you get a clear idea of what a room will look like when completed, a contractor has a visual representation of the target, and such collaterals produced by an architect as floor plans and perspective drawings give your builders a guide map for execution. A professionally prepared architectural design tailored to your needs is more time- and money-efficient than showing your contractor a picture from a magazine and saying "I want something like this."
The reality is that many homeowners and businesses hesitate hiring an architect because they think it's too expensive and is not worth the cost. Hopefully, we convinced you that not only do your chances of being happy with the end result drastically increase when you hire an architect, but that it also makes financial sense to do so. We have another piece of good news – hiring an architect doesn't need to be expensive. Arcbazar.com makes architectural design affordable and fun by allowing you to crowdsource multiple designs for your project, while saving you, on average, 60% of the cost. How? It's easy. Describe your project, attach floor plans, measurements and links to inspirations, decide on the size of the award (yes, it's completely up to you how much you'd like to reward the designers!) and launch it. As soon as you do, our network of 20,000+ designers receives a notification. You will end up with around 10 design ideas, complete with floor plans, and perspective and elevation drawings when necessary. All you have to do is pick your favorite design pack and hand it over to your contractor. Give it a try!